MicroCap™ Depth Filter Capsules
Uniquely Flexible to Meet Your Processing Needs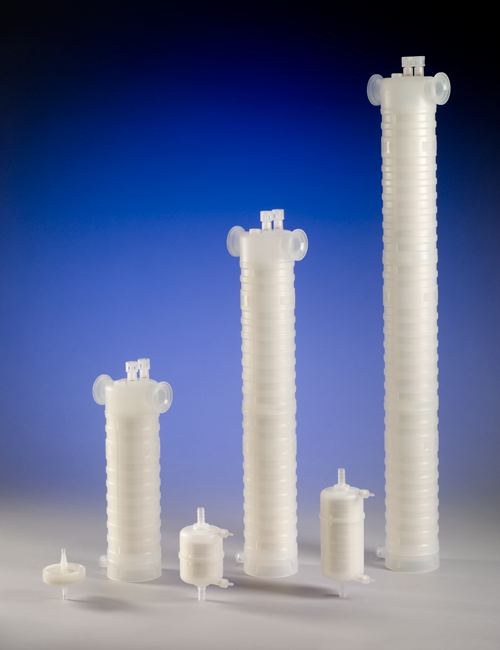 A Capsule Suite Customized to Fit Your Processing Needs
MicroCap Single-Use Capsules offer the most flexible solution and the most consistent results for all of your batch processing needs.
MicroCap single-use capsules are a uniquely flexible line of disposable depth filter products designed to optimize scale-up and scale-down studies.
The MicroCap Capsule Suite with six different capsule sizes can meet your process volume requirements without requiring the pooling of multiple batches.
Lab-scale through clinical scale process volumes can be easily managed within the framework of cost-effective, efficient processing. Scale-up and scale-down studies can be efficiently managed through capsules sized and aligned to standard process volumes.
Advantages
Uniquely flexible — options in capsule size, effective filter area and connection styles to suit your needs
Linear Scalability — assurance of application and throughput from lab to production scale
Low hold-up volume — reduced post-use rinsing volumes for product recovery
Completely disposable — no cleaning or cleaning validation
Depth Filter Media
The MicroCap single-use depth filter capsules incorporate 4 types of depth filter media:  MicroMedia,  XL Series, DXL Series – a double layer configuration of XL Series, or MicroClear (Impregnated with activated carbon) depth filter media in an easy-to-use, self-contained and completely disposable single-use depth filter capsule.
Advantages
Processes
Applications
Downloads
Lowest Extractable Levels
Zero Cleaning
Increased Particle Retention
Completely Disposable
Extended Throughput
Up to 2,800 cm2 of filtration area
Autoclaveable
Mammalian cell cultures
Bacteria, yeast, and insect cell lysates
Vaccines
Blood plasma proteins and serum
Media
Primary separations/prefiltration
Secondary clarification
Cell culture harvest
Cell culture clarification
DNA reduction
Endotoxin reduction
Host Cell Protein (HCP) reduction
Protein aggregate removal
Decolorization